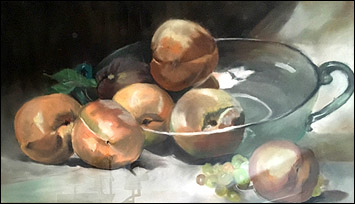 This is a website for people with an interest in the science of cooking. For 12.5 years I was the science editor for America's Test Kitchen, which includes Cook's Illustrated magazine, Cook's Country magazine, numerous books on cooking, and the popular PBS television cooking show "America's Test Kitchen". Very recently I joined Christopher Kimball's new venture "Milk Street Kitchen" as science editor. I also teach an introductory course in food science in the Department of Nutrition of the Harvard T H Chan School of Public Health. where I hold the position of adjunct associate professor. To learn more about me visit my biography page by clicking on the box labeled Me in the periodic table above. The picture of "peaches in a glass bowl" on the right is a copy that I did in pastel in 1954 when I was age 14, showing a clear interest in food even at that age. The original was painted by the French artist A.-F. Bonnardel (1867-1942).
As time permits I will write brief essays on selected topics about cooking science posted on the Notes page, which can be viewed by clicking on the box labeled Nt in the periodic table. The most recent essays appear at the top of the list, and include The Fascinating Science of Taste, Smell, and Flavor, and Making Stock of Things. In 2014 I organized a symposium on "Trends in Cooking Science" for the 248th American Chemical Society meeting held in San Francisco. Some of the top leaders in cooking science participated in the symposium. See the photograph of all the participants gathered for lunch following the symposium in the gallery of photos (Ph). You can also keep track of events where I have given (or will be giving) lectures, as well as recent publications at the events page (Ev).
Please click on the contact box labeled Co if you would like to send me your comments or ask me questions about cooking science. Although I cannot make any promises I will try to answer them as quickly as time permits. Clicking on the box labeled Ed in the periodic table will take you to a page reprinted from the journal Science Editor describing my role at America's Test Kitchen.
On April 1, 2013 I was officially included in the first group of Certified Food Scientists (CFS) approved by the Institute of Food Technologists.
| | | |
| --- | --- | --- |
| | "The secret of success in life is to eat what you like and let the food fight it out inside." Mark Twain | |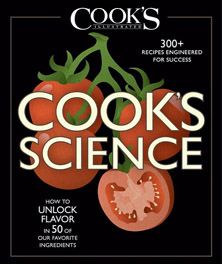 Presenting our latest science book Cook's Science by the editors of America's Test Kitchen and Guy Crosby, PhD, CFS — Published October 4, 2016.
This book is the second in a series of books on the science of food and cooking published by America's Test Kitchen. It is filled with scientific information that will help you unlock the flavor in 50 of our favorite foods, including pork belly, flank steak, salmon, lobster, goat cheese, kale, tomatoes, dried chiles, cannellini beans, olive oil, balsamic vinegar, bittersweet chocolate, and many more. It includes a section on "The Basic Elements of Food", as well as an extensive list of the test kitchen's favorite ingredients, followed by a long list of some of the most important resources used to write the science in this book. It also includes more than 300 recipes engineered for success.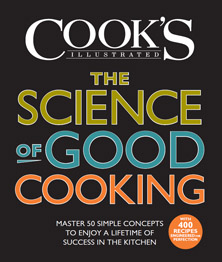 It's also not too late to buy our first science book The Science of Good Cooking by the editors of America's Test Kitchen and Guy Crosby, PhD, published in October 2012. It is filled with lots of simple science explaining how 50 cooking concepts work, including how high heat develops flavor, potato starches can be controlled, precooking makes vegetables firmer, and slow heating makes meat tender.