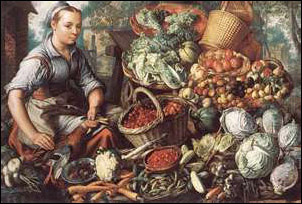 This is a website for people with an interest in the science of cooking. I am the science editor for America's Test Kitchen, which includes Cook's Illustrated magazine, Cook's Country, and the popular PBS television cooking show "America's Test Kitchen". As an adjunct associate professor I also teach a general food science course in the Department of Nutrition at the Harvard School of Public Health. To learn more about me visit my Biography page by clicking on the box labeled Me in the periodic table above.
As time permits I will write brief summaries of selected topics on cooking science posted on the Notes page, which can be viewed by clicking on the box labeled Nt in the periodic table. For starters see my summary of the science of cooking with wine. Following this is a poster on the role of copper in whipped egg whites presented in March 2012 at the American Chemical Society meeting in San Diego by one of my students, and another member of the faculty at Framingham State University. I taught in the Department of Chemistry and Food Science at FSU until 2011.
Please click on the contact box labeled Co if you would like to send me your comments or ask me questions about cooking science. Although I cannot make any promises I will try to answer them as quickly as time permits. Clicking on other boxes in the periodic table will take you to a page (Ed) reprinted from the journal Science Editor describing my role at America's Test Kitchen, as well as a gallery of photos (Ph), and future events (Ev) you may find of interest.
On April 1, 2013 I was officially included in the first group of Certified Food Scientists (CFS) approved by the Institute of Food Technologists.
| | | |
| --- | --- | --- |
| | "I cook with wine, sometimes I even add it to the food."  W. C. Fields | |
Suggestions for Cooking with Wine
For more on cooking with wine, check out our Science Notes »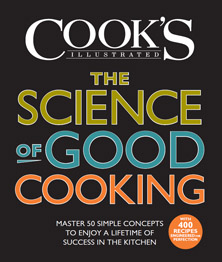 Presenting The Science of Good Cooking by the editors of America's Test Kitchen and Guy Crosby, Ph. D., CFS – Published in October, 2012.
It is with great pleasure and satisfaction that I announce the publication of a new book on "The Science of Good Cooking" written by the editors of America's Test Kitchen and me. This book is the first of its kind from America's Test Kitchen and is available from booksellers as of October, 2012. It is filled with lots of simple science explaining how cooking concepts work, including High Heat Develops Flavor, Baking Soda Makes Beans and Grains Soft, and Vodka Makes Pie Dough Easy, plus 47 other concepts you will want to learn. The science is illustrated with figures, photos, and test kitchen experiments. I reviewed over 350 scientific papers to ensure the science in this book is both accurate and described in simple terms.